Welcome to the Mirror Models!
Suscribe for our newsletter! Send empty email with subject "newsletter" to our email:
We will keep you updated on our news, upcoming releases or events and our deeply hidden secrets....
If you are model hobby dealer or retailer, and interested in stocking our product line, please contact us for details and price list at:
Mirrormodels.contact@gmail.com
We wish you
very Merry Christmas and Happy New Year 2017
A lot of news to come in early 2017 from us!
Four new kits are in mold production and will be released shortly (Due to major upgrades and changes in our Chinese producer´s factory we apologize for some delays with recent releases, but the kits will be ready soon, thank you for your patience and support)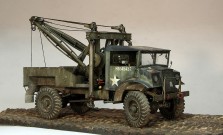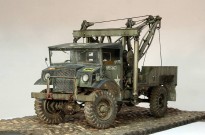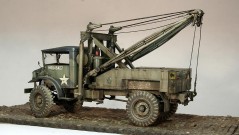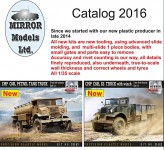 Catalog 2016 in PDF
Thank you all for your support in 2015, and we wish you
Merry Christmas and Happy New Year 2016
"D7 7M best build" competition is finished, the results are shown

here
New Canadian Special purpose truck coming now - a big C60L Petrol tank. More Canadians are being molded to be ready for Christmas and Nuremberg Toy Fair 2016 (besides 2 variants of HUP which have been tested already and will be released in a couple of months). So you can expect soon more CMP Special Purpose trucks based on Chevy and Ford 30 cwt and 3 ton chassis, short and long wheelbase, water tank truck, dump truck, Holmes breakdown, 6 pdr Portee, Personnel lorry C15A and more.... New tooling, many original molds with common parts are being retooled and improved
Excellent adds for D7 tractors and bulldozers are now available from

LZ Models
Basic User Guide to our Track link tool created as an Article by famous Portuguese modeler José Brito here
Our kit 35802, 1/35 US Diamond T 969A Wrecker Hard Top has been awarded a prize "Model Of The Year 2015" by German ModellFan Magazine at Nuremberg Toy Fair! It is a great honor, Thank you guys!
Thank you all for your kind emails, positive feedback and compliments to our new kits! Our new kit producer very appreciates your positive comments! We keep working hard and there is more coming shortly, be ready. We will also open 1/48 scale range very soon, and you can expect for the start:
1/48 CMP C15TA Armored Carrier
1/48 CMP Mk I Otter
1/48 CMP Chevy FAT Cab13
1/48 CMP Ford FAT Cab11
.
.
.